If luxurious red carpets inspire you, you can incorporate them into your special events.
Red carpet hire in Brisbane refers to hiring a red carpet for your special events, such as parties, ceremonies, and weddings. You may have seen long and narrow red carpets. Its valve material makes it more luxurious, and it can glamour events. These red carpets are primarily used in Bollywood events when stars enter the event on the red carpet.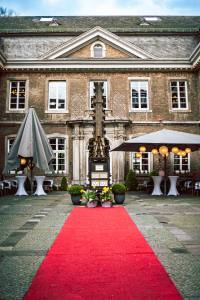 Hiring a red carpet is one of the most popular ways to glam up your events. This product is so versatile that you can use it at an entrance or indoor gathering. Its bright red color and velvet material make it eye-catching and prominent at your event.
When hiring a red carpet, consider the size and length of the carpet about your location. In Brisbane, many companies offer red carpets of different sizes and measurements. Many businesses provide additional services such as ropes and red carpet stanchions. Check the cost of hiring the red carpet as well. The price depends on the size of the carpet and the duration of time spent on it. However, remember to work with a reputable company, as they will provide a high-quality product.
Final words:
Hiring red carpet Brisbane is popular because it exudes elegance and glamour. So if you are planning an event, remember to hire a red carpet.