Photobooths for All Your Business Needs
Are you starting a small business with your family and finally decided to open up your store? Or, are you a big company who's just about to promote a new service or product? Well, even if you have the biggest or the smallest business in town, surely there's only one goal: to improve customer growth and make your brand stand out.
Now, if you are planning a corporate event, grand opening, a tradeshow, or launching your brand, there are many traditional ways to do so. You can pay for a spot in a TV commercial or a billboard. Or, you can create rich contents for your customers and promote on social media. These are indeed tested ways to grow your business and call in a crowd.
However, what do you plan to do when your customers get to your event? What else can you do to make sure every one of them leaves with a smile on their faces? How can give you give them a great time and make an impression?
One of the best ways to do this is by installing a photo booth or hiring a company to provide you one. While it's not your usual marketing strategy, it is certainly a great addition for any event or business, allowing you to give the best customer experience. To know more about how photo booth hire can help with your business, continue reading.
Photo Booths Help Put Your Brand Front and Center
With photo booths, you can customize the final output and match its design to your brand's image and requirements. So, you can make sure that everyone sees your brand – on the printed photo, at the photo booth set up itself, and any image shared through social media.
Moreover, every printout will serve as a memorable photo that your customers can take home as souvenirs. So, you are leaving them with an item that will constantly remind them of your product or service.
Collecting Customer Information
Aside from giving your guests something to remember you by, you are also able to grow your market by collecting information from your customers. How does it work? Well, before customers enter the booth to take a photo, you can ask them to provide their name and email address to receive a digital copy. And, once you've saved a customer's email address, you can use it to add them into your mailing lists and send them special promotions, gifts, or coupons.
In addition, with such information, it is easy to stay connected with your customers. Plus, it provides you a chance to further your relationship with them. It's a great opportunity to engage with your customers in the future.
Photo Booth as a Marketing Strategy
By installing or setting up a photo booth at your event, you can turn everyone in attendance into a brand ambassador who will promote your brand for you. How? Your customers will post their own photos – which has your brand – on their own social media accounts, making their friends and followers know they were at your event and trying out your products or services. And, as a result? You can widen your audience!
Now, that's just one photo. Can you imagine if hundreds of your customers attend and have their photos taken? With the help of a photo booth, you will have hundreds of branded photos produced and shared instantly with just one event! Thus, you can spread your brand and message faster through the help of social media and your customers. Certainly, photo booths serve as a word-of-mouth marketing style that will help your business grow.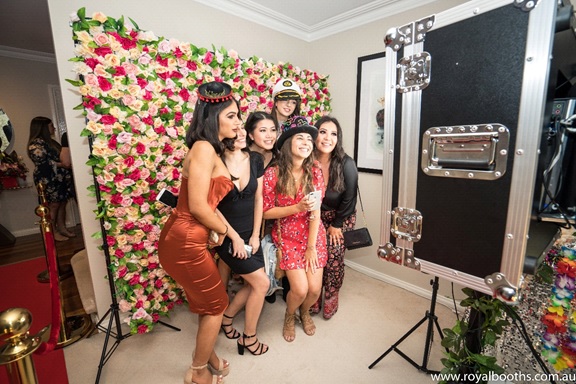 Increases Your Engagement
Having the chance to talk and have a conversation with your customers increases your chance of having repeat transactions. More importantly, you need to entertain them as they did take their time to attend your event. And, a photo booth serves as an attraction and it opens an opportunity to engage with your customers. You can use this time to discuss the product or service you are offering.
How Photo Booths Will Help Your Brand Stand Out?
In today's time, with the many "special offers" floating around, giveaways, and deals, consumers have become harder and harder to please. So, the most effective strategy that allows them to stay and listen to you, is through real-time marketing. This is why you should offer them something cool, fun, and valuable that they can have instantly – something that delights them and gets them interested in what you are selling. And, what is the best way to do this? By having a photo booth at your event, of course!