Disability Accessible Booths
The Annual Disability Support Awards is a staple event on the Perth NDS (National Disability Services) calendar, and we were there this year to join the party with both our Roaming and Accessible Photo Booth.
The Crown Perth Grand Ballroom played host to the event which is a celebration of the people and carers who have made a difference to people's lives living with disability.
The venue was set up a little differently to your average corporate dinner with a focus on an inclusive event for all guests. Every element of the event, put together by event company Partner and Prosper, was meticulously planned to ensure that the NDS delivered on the requirement of an inclusive experience for all.
Adept Photo Booths are proud to provide the most inclusive Perth photo booth hire experience available. Our Accessible Photo Booth operates with a patented camera tilt system as well as a hydraulic lift to raise and lower the booth effortlessly.
Many photo booths claim that they are accessible, which they can be, however our Accessible photo booth modifies the whole experience of the screen, camera and flash to accommodate a 6 foot tall person through to guests in wheelchairs instantly. We don't stop at accessible and rather focus on inclusion to provide a seamless and engaging photo experience for all.
To accompany our Accessible Photo Booth, we also had our Roaming Photo Booth in the crowd for pre event drinks and also to capture some fun on the Dance floor at the end of the night. Our Roaming Photo Booth was a hit with all of the guests who are still blown away by the technology by having their boomerang GIF's and photos sent straight to their phone my email or SMS.
Aside from giving your guests something to remember you by, you are also able to grow your market by collecting information from your customers. How does it work? Well, before customers enter the booth to take a photo, you can ask them to provide their name and email address to receive a digital copy. And, once you've saved a customer's email address, you can use it to add them into your mailing lists and send them special promotions, gifts, or coupons.
In addition, with such information, it is easy to stay connected with your customers. Plus, it provides you a chance to further your relationship with them. It's a great opportunity to engage with your customers in the future.
Photo Booth as a Marketing Strategy
By installing or setting up a photo booth at your event, you can turn everyone in attendance into a brand ambassador who will promote your brand for you. How? Your customers will post their own photos – which has your brand – on their own social media accounts, making their friends and followers know they were at your event and trying out your products or services. And, as a result? You can widen your audience!
Now, that's just one photo. Can you imagine if hundreds of your customers attend and have their photos taken? With the help of a photo booth, you will have hundreds of branded photos produced and shared instantly with just one event! Thus, you can spread your brand and message faster through the help of social media and your customers. Certainly, photo booths serve as a word-of-mouth marketing style that will help your business grow.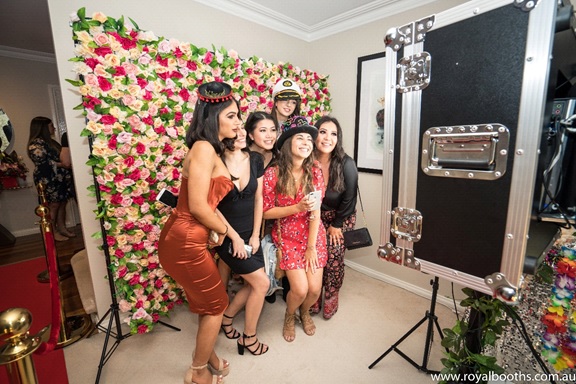 Increases Your Engagement
Having the chance to talk and have a conversation with your customers increases your chance of having repeat transactions. More importantly, you need to entertain them as they did take their time to attend your event. And, a photo booth serves as an attraction and it opens an opportunity to engage with your customers. You can use this time to discuss the product or service you are offering.
How Photo Booths Will Help Your Brand Stand Out?
In today's time, with the many "special offers" floating around, giveaways, and deals, consumers have become harder and harder to please. So, the most effective strategy that allows them to stay and listen to you, is through real-time marketing. This is why you should offer them something cool, fun, and valuable that they can have instantly – something that delights them and gets them interested in what you are selling. And, what is the best way to do this? By having a photo booth at your event, of course!